Susumo Engineering at Vasai,Mumbai, Handling of Sand, Grit, Metal, Debris, Loading of Concrete Mixer, Dumper, Tractor Trolleys, Dozing/Levelling of Ground, Roads etc, Handling of Snow & Light sand, Fork Lift, Pallet Lifting, Waste/Debris Collection Bin, Excavating, Digging, Trenching, PipeLaying, Drilling In Ground For Poles, Fences & Plants, Crane, Lifting of Heavy Parts, Breaker For Rocks, Concrete etc, Cutting Weeds/Lawn,Cultivating, Tilling, Ploughing, Sweeping of Roads, Trailer Towing, Towing Truck, Tunneiling Machine
Welcome to Susumo Enginnering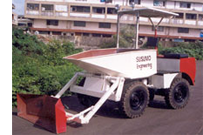 SUSUMO ENGINEERING enjoys the reputation and leadership in offering quality products and services as solutions to the demanding requirements of construction industry a municipalities in Solid Waste Management....
To cater to the various Industry Requirements SUSUMO ENGINEERING has built up its own superior design, manufacturing & testing facilities at their Vasai works.
A well trained team of Engineers and Techniciansis capable of handling all the aspects of Project Management from the Conception stage to Commissioning stage.
Susumo Engineering has access to a vast pool of resources of various fields in Material Handling & Earth Moving Machinery through the Experience-Rich People on the...
Product as per Application